Protocol Analyzer for ZigBee
Protocol Analyzer for ZigBee
The Perytons™ Protocol Analyzers wireless product line is an indispensable sniffing and analysis tool for ZigBee, 6LoWPAN, IEEE 802.15.4 and other protocols of wireless sensor networks; in their development, integration, installation, monitoring, and troubleshooting processes. Whether involved in applications like Automatic Meter Reading or Advanced Metering Infrastructure (AMR, AMI), Smart Energy, Smart Metering, Home Automation, Heating Ventilation and Air-Conditioning (HVAC) systems as well as other mesh wireless sensor networks and Internet of things (IOT) related environments, the Perytons Protocol Analyzers are critical for all stages of a product's development cycle and contribute to a smooth network operation.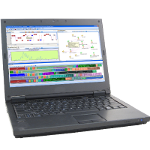 Supporting a variety of standard communications protocols as well as customization for proprietary protocols, with easy to learn, intuitive, user interface, our analyzers are the tool of choice for developers, Quality Assurance engineers, technical support and system integrators.
Designed for Desktop or Laptop PCs, the Perytons Protocol Analyzers wireless-line basic models are distinguished by their sniffing capabilities (e.g. single channel or single channel with diversity vs. multichannel) and the frequency band covered (2.4GHz or Sub 1 GHz).
The Perytons Protocol Analyzers support standard front-ends (we include the needed hardware as part of our sold products to allow immediate out-of-the-box use – USB dongle(s)s/modules and USB HUB when relevant).
The Perytons Protocol Analyzers are based on a single sophisticated core software structure built of different views and options. This approach addresses different personnel analysis needs usually required throughout the R&D cycle and allows easy upgrade from basic to more sophisticated models and add-ons as the need for such arise.